Who are we?
Hope is a non profit organization who's purpose is to give help and support for children and young people in the democratic republic Kongo (Kinshasa).
This is how it works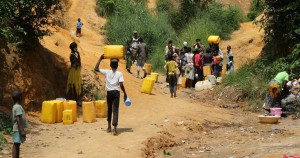 VWe are active in a village called Malueka, about fourtyfive minutes outsode of Kinshasa. There, we've started a vocational school and a pre-school. There children are welcome to get basic educational as well as vocational training within different professions like hairdressing, tailoring, photography, computer technics, farming and more. We've also started different types of business operations for the students of vocational school. Where they can practice their professions.
After school hours the school works as a kind of youth center where children and young adults are welcome to hang out and engage in different activities with eachother. There's even a football team, a boxing team and a jiu jitsu team.
We built three water wells so that the children don't have to walk for miles every day in order to get fresh and clean water. This also helps them when it comes to education, as they can spend more time concentrating on school instead of walking for hours every day.
The access to health care in Malueka is very limited. So we started a health care center and youth clinic in the village. This way, they can get better medical attention as well as sex education and contraceptives to help keep the number of teenage pregnancies down.
Our goal
We want everyone to have the same possibility to education.
We're supporting educational work and social integration
We hope to raise the consciousness of people
Our goal and vision, is to give the young people and children of Malueka a hope so that they can fulfill their dreams of a brigther future in Malueka and Kinshasa. We want to give them a basic education as well as a vocatinal education that can lead to jobs. We want to encourage them to activly participate in the growth and development of their future society. We also want to make it possible for them to exchange ideas and experience with children and young people in Sweden in order to create a shift and lower preconceptions.