Shoes, accessories, sport equipment, computer equipment and other things. At the moment, we're collecting things like these to ship with a container to our operations in Kongo. Gifts like these are appriciated and can be given directly to us. Pick up within and around Stockholm is possible. It's also possible to visit our collection site at the Swedish Church in Falköping. Please contact us if you have any questions about this.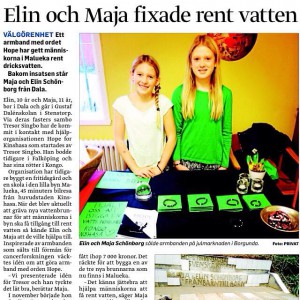 We are also in need of more economical support to finance our daily operations and upcoming projects.
Financial support can be made to bankgiro 769-9200 or by Swish to no. 1230831115. Monthly supporters really helps our cause, please contact us for information of how to become a monthly supporter if you're interested.

It's also possible to make a donation online by clicking the "Donate" button on the front page of the website.
We also sell hand made silver jewlery made by the goldsmith Sarah Mineur at Design Mineur, as well as hand made bracelets made of plastic and wood by Maja- & Elin Schönborg. All profit from our sales goes directly to our projects in Kogo. Orders can be made through our webshop at https://www.etsy.com/se-en/shop/Hope4Kinshasa. If you have any questions about this, don't hesitate to contact us.